Art at a Snail's Pace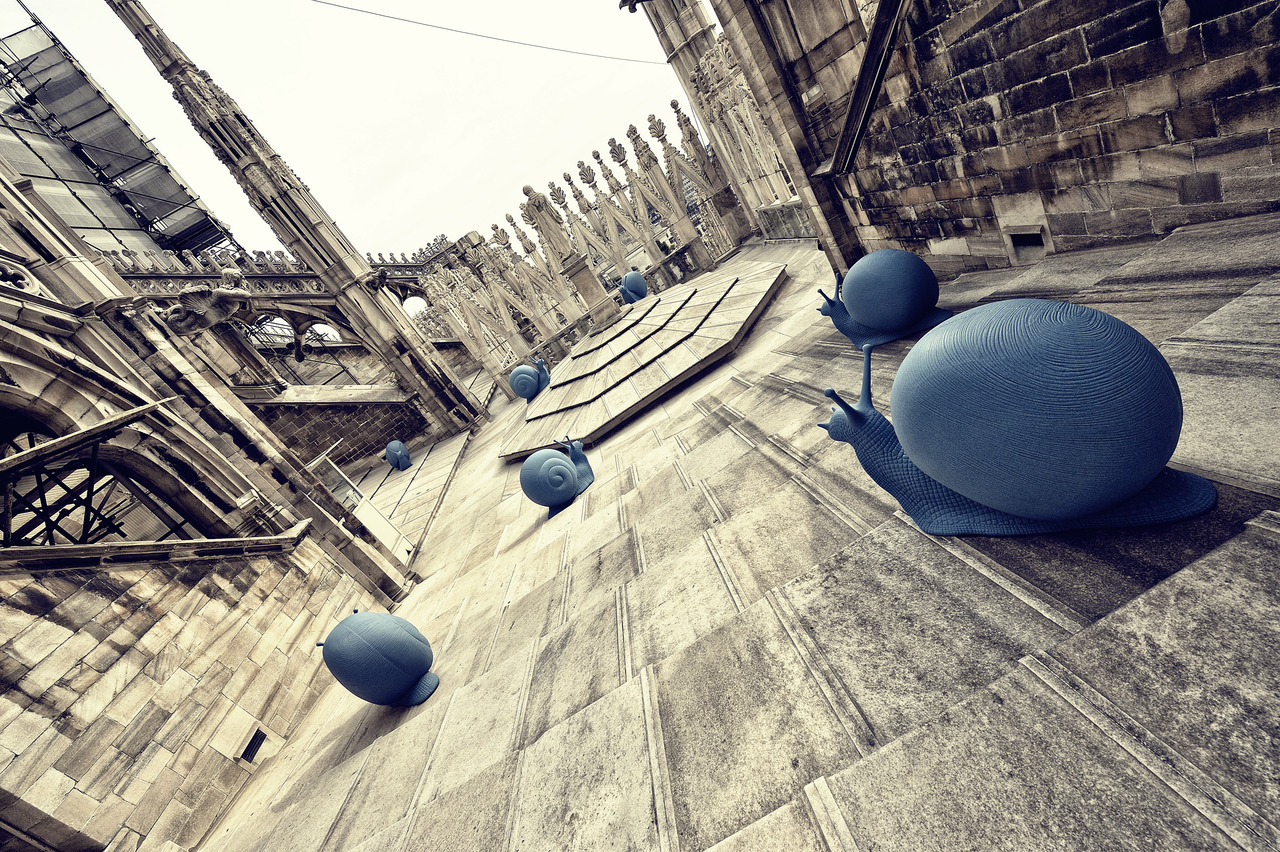 "You've finally made it, after a breathless climb up the winding marble staircase, to the upper terrace of the Duomo di Milano — the famed Cathedral of Milan, Italy, and the fourth largest in the world. You flip through your guide book. A towering forest of ornate spires, the same ones that enchanted the literary likes of Mark Twain and Henry James? Check. The hundred gruesome gargoyles, staring down from their marble perches? Check. There is the precious white marble, quarried from Candoglia, and a view of the Italian Swiss Alps in the distance (amid the smog). And yet, if you happened to be one of thousands of tourists who visited the Duomo two months ago, there was also something out of place — a bit of modernity sticking out among the 14th-century Gothic masterpiece.
There, slinking across the cathedral's steps and roof, were dozens of bright blue plastic snails.
No, this wasn't a new architectural addition to the cathedral (though the Duomo did help place the sculptures) — but a kind of call to action staged by an artists collective known as the Cracking Art Group.Made up of six artists from Italy, France, and Belgium, the group's goal was to draw attention to the Duomo's slow structural decay, and to ask for public donations to help to restore it. It was an act praised all across Milan, where the Duomo has made headlines for putting its famed spires up for adoption in an effort to bring in dollars. But it's all part of a larger mission by the Cracking Art Group, who use colorful plastic animal sculptures as their messenger.
Over the last two decades, the group's giant creations have invaded more than 600 art galleries and public spaces from New York to South Korea, as well as more unusual spots like supermarkets and highways. They placed two giant orange rabbits at a Paris museum; 34 bright yellow penguins at another in Prague. There was the time they suspended a flock of plastic seagulls midair, and another, when they invaded the Venice Bianelle, a bi-yearly contemporary art exhibit, with 1,500 golden turtles (the golden coin turtle is one of the most endangered species in the world).
"We were the first artists to talk about the environment on the international scale," says Marco Veronese, one of the group's founders, when I meet him for coffee in Istanbul, where he lives. "We use animals because they are the innocent victims of this environmental destruction … and they usually are the ones most hurt." By taking over spaces where they don't belong, he says, the animal sculptures are calling out for help.
Veronese's romantic zeal for preserving the environment — he almost loses me talking about the symbolism of his turtles' golden shells and how they emulate the energy of the sun — makes some sense when you learn about his background: He's from the bucolic Biella region of Italy, a mountainous area in northern Piemonte that is rich with unspoiled meadows, lakes, and cheese. It's made him hypersensitive to the environmental ills outside his hometown: climate change, pollution, loss of wildlife. "Deforestation, erosion, air and water pollution. We are single-handedly killing our planet," he says, noting that the problem is often that we move too fast to notice.
It's there that the snails come in, he says. "We need to adopt a new speed. We need to become more like snails," says Veronese, waxing poetic about blurring the lines between artificial and natural life. "When we're traveling that fast, we can't see the landscape clearly. It's blurred, hazy. How can we notice a problem or understand how to fix it if we can't even see it? We move on auto-pilot and don't consider the consequences."
All of this is where his collective comes in. Founded in 1993 to inspire dialogue about the importance of recycling, most of the group's protests are environmental in nature, but occasionally they tackle art. Their title — the "cracking" part — comes from the process of transforming crude oil into plastic, it's also known as "depolymerizing." To Veronese, that process represents a sort of middle-road approach in tackling today's most pressing environmental challenges. He wants his own plastic installations (made of recycled plastic, of course) to be used in an intelligent, sustainable way. It's why the group's latest campaign, under which the Duomo protest fell, is called "RE-generation": unlike their real-life counterparts, these snails don't leave much of a trace. And that's sort of the point.
And yet, can placing a bunch of colorful plastic animals in otherwise ordinary public spaces actually make a difference?
If what happened in Milan is any indicator, it can.
With the help of the a local arts management group and gallery, Veronese and his snails have raised 90,000 euro for the restoration of the Duomo — in particular, its 357-foot high main spire, which holds the famed statue of Madonna. Urban pollution is mostly to blame for the degradation of the spire's decorative marble surfaces.
"They've been very powerful in grabbing people's attention," says Veronese of the snails, each of them roughly 30 pounds in weight. "The toy-like blue against the white Gothic cathedral — it was stunning."
Snails, it seems, have never been so revolutionary."
Source: storyboard.tumblr.com - Alyson Neel